Yes, I know this is coming a little late, but it's never really too late for great fashion is it? 
Theodora and Alexandra Richards never disappoint - the unexpected touch of the red lip pairs perfectly with the wellies!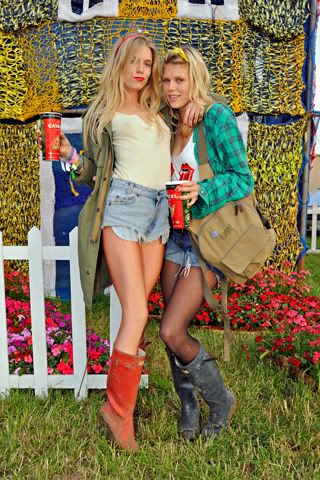 I've seen this American Apparel onesie worn a thousand times (I own one myself as well!), but never quite so gracefully as this woman does.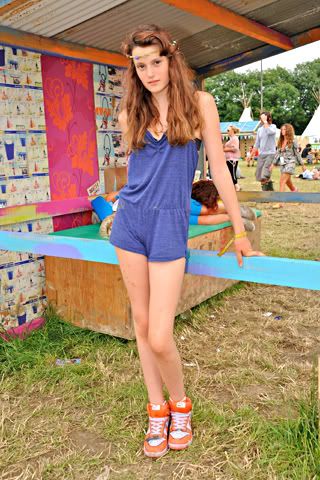 Friends Henry Holland and Pixie Geldof share similar taste in footwear (although Pixie's are Jimmy Choo), and I'm especially loving her hat and his cut-offs! If I could get over to Glasto next year I'd totally wear Pixie's look head-to-toe. 
Bringing out thshoulder pads during the summer? Gutsy, but this woman wears them well. I adore the print on her dress and the whole colour combination of the look is superb. 
The silhouette of the dress is classic, but punched up with an extra-terrestrial/city lights print. I've also got my eye on those grey socks... 
Model Daisy Lowe is bringing on the fringe trend full-force, with her gorgeous fringed skirt and top. She adds some more western flair with a saddle bag and slouchy boots.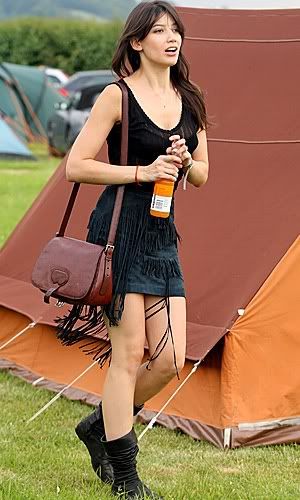 Someone's looking a little Alexa Chung! Nonetheless, I'm loving the whole look, from her tough black buckle boots to her perfection of a mini dress.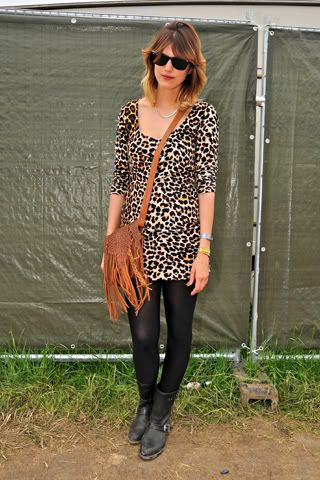 So maybe she's trying a little to hard to look like Kate Moss, but Daisy Lowe can still rock PVC pants. I love that she breaks up the all-black look by incorporating different shades of the hue and contrasting matte and shine textures.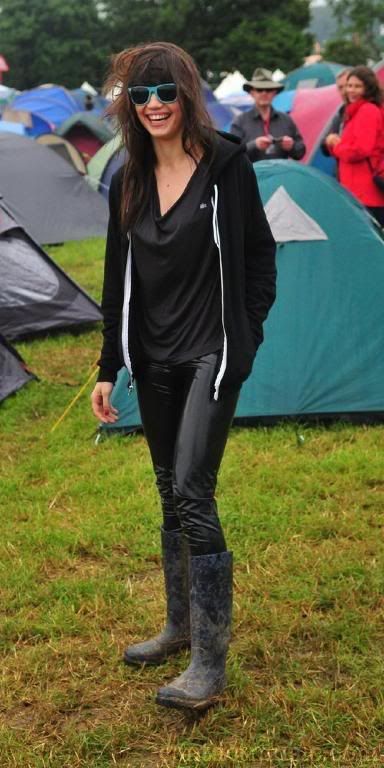 Sometimes it seems that model Lily Donaldson is perfection in human form, and her appearance at Glastonbury only solidified the theory. I can't even pin-point what I love best... the entire ensemble is fabulous, and despite the dirty wellies, Lily herself is definitely not looking like she's just tromped through miles of mud.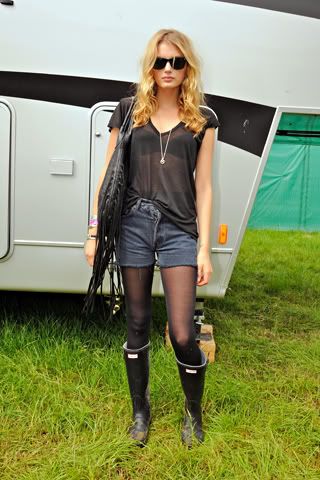 Back again is Pixie Geldof and Henry Holland, both wearing coordinating black leather jackets and black boots. Henry looks adorable and I'm loving Pixie's Vivienne Westwood bag!